The local supermarket I love to visit frequently has this written all over the vegetable section ceiling: "Our lifespan would stretch in leaps and bounds if only vegetables tasted like bacon."
Moreover, a celebrity whose name slipped my mind right now once said that whenever his mom said "Eat this, it's good for you," it gives a signal that he is about to eat foods that are not delicious.
However, these beliefs may vanish nowadays, in the age of the chefs.
The health craze has been fast becoming an 'in' thing. Whenever I'd open our office refrigerators, for instance, most of the items I would see now are healthy salads, oranges, apples, yogurt, low fat milk, and less and less of the sinful cakes.
Whenever I'd see food delivery arriving at the receptionist area, there are Diet Meals, prepared by gourmet restaurants who are probably riding on the health craze bandwagon of the likes of Sexy Chef, Cibo, and similar establishments serving  diet meals like South beach.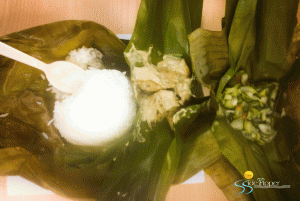 Think about vegetables, salad, rice and viand wrapped in banana leaf delivered right on your desk. Seriously? Who would have thought that fast food, and food delivery can be healthy? But this is exactly what I experienced myself when I sampled Oolamama. Oolamama is a not-for-profit organization made by disadvantaged members of our community as part of an education program of Mano Amiga and Messy Bessy. They only use local ingredients, and biodegradable packaging.
The meal I ordered included satay chicken grilled in savory peanut sauce which tasted heavenly, one would forget that it's low in fat as it used yogurt for marinade. It went well with semi-sticky rice and the cucumber salad.
With lunch this delicious, I may no longer have an excuse for not eating healthy anymore.
Oolamama Tel No: 844-5133 and 0917-7871560
779 Total Views
1 Views Today