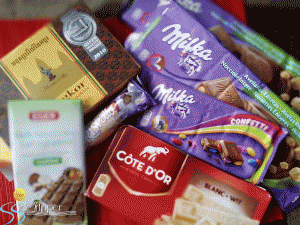 After a round of coffee that goes with my lunch (on a habitual basis), I was ready to pull the drawer of my desk where I've been keeping tons on chocolates of various kinds.
Today I felt like munching on choc nut. Hmmm… the thought of how good it tasted makes me forget how much sugar it contains. I figured that probably, the entire pack of each choc nut is 80-90% sugar.
My "guesstimate" came from my sister actually. She is president of the culinary club of the company she works for and one time, they made polvorons (a fragile cake of sweet, buttery powder). She was amazed that the preparation entailed 90% of sugar!
Sugar is bad for you — it's evil to one's health in sweet disguise, I have been told. Because of this, a lot of people nowadays resort to artificial sweeteners to keep their sweet indulgences minus the calories and other health concerns that can be blamed for sugar.
While the U.S. FDA (Food and Drug Administration) says that artificial sweeteners are safe across types (these include aspartame, saccharine, acesulfame K, sucralose and neotame), one cannot dismiss the numerous cases that link these to cancer.
One popular example is that of saccharin.  In 1977, it was concluded among Canadians that saccharine caused bladder cancer in animals tested. Since then, the FDA required that any saccharin products carry a warning label about cancer. The actual warning reads: "Use of this product may be hazardous to your health. This product contains saccharin, which has been determined to cause cancer in laboratory animals."
The last time I bought Sweet n' Low, however, I noticed that it doesn't carry this label anymore and I learned that it's only due to popular public demand that the brand continues to be in the market and the FDA was not able to ban the brand.
I remember my uncle who told me that you don't get ills of sugar when you use artificial sweeteners, but you'll "get something else." I also read a health book recently where it is advising readers to avoid artificial sweeteners "completely:"
I think that at the end of the day, it is up to the person to choose who to believe — the facts or the cases that are not concluded by the fact but then came from reliable sources/persons as well.
So which risk should one take as a consequence of having a sweet tooth: diabetes or cancer?
I stared at my unopened choc nut for a little while… and… thinking about the sweet debate…. I decided to put it back in my drawer. Unopened.
1070 Total Views
1 Views Today