One of the reasons why our family loves to mall around Glorietta is because of its regular exhibits. We love to look at artworks and food that are distinct to a specific country or a province.
But then, the event at the Glorietta's Activity Center last September 24-28,2014 was especially remarkable for us because the mall featured the 29th Negros Trade Fair.
This is the longest-running fair, we've been told, plus all that it has showcased throughout the exhibit were all close to our hearts, being  Ilonggos  ourselves.
All of a sudden, the things we'd be craving for when we'd go  to Negros Occidental to visit our relatives and friends all converged and were ready for sampling by everyone who visited the mall. This year, Negros harped on its being ready to open up itself to the world, via its theme: "Smiles Beyond Borders." Roughly 80 establishments took part in the exhibit.
We felt the street party spirit when it featured "Inasalan sa Dalan," wherein  chicken inasal with matching sinamak (coconut vinegar) , chicken adobo flakes and other Negros specialties were made available for either dine-in or take-out. Sweet specialties from famous bakeshops/outlets such as El Ideal, Margie's, Virgie's  and Bong Bong's were also present to sample delicacies like piaya, hopia, napoleons, kalamayhati (sweet sticky rice in coconut cream), galletas, barquillos and many more.
Paintings, handicrafts, knitwear, housewear, silk and ladies' accessories were also abundant for tourists, Ilonggos and non-Ilonngos to appreciate and buy.
At the forefront of the exhibit is, as expected, the 'story' in photographs and mementos of how sugar cane was being produced. Sugar, as we know, is the main agricultural product of the province.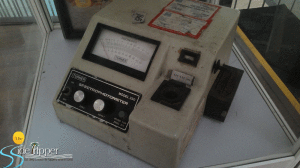 Mr. Raymond Alunan from the Negros Occidental Tourism Office  gave us a quick tour of the area, much to the delight of our son who was amazed to realize that producing a sugar product is not as simple as it seems, and that, there are many kinds of sugar, beyond brown and white.
Finally, we got to see from the Tourism Office brochures of some beach resorts and hotels that  opened fairly recently  in Negros, both within the northern and southern parts of Negro, such as:
Buenos Aires in Bago City
Campuestuhan Highland Resort in Talisay
Danjugan Island in Cauayan
Hometown Pension in Binalbagan
Guintubdan Pavilion in La Carlota City
Lakawon Island Beach Resort in Cadiz City
Zaycoland in Kabankalan City
Of course, the urge to visit the familiar sites remains to be there, such as the Campomanes Bay in Sipalay, Carbin Reef Marine Reserve and Mangrove Eco park in Suyak Island  in Sagay City, The Ruins in Silay, Mambukal Resort in Murcia, Manukan Country, Cansi House and Pala Pala in Bacolod.
For now, they are still in my bucket list waiting to be ticked-off.
1955 Total Views
3 Views Today