"The earth belongs to YAHWEH and all that fills it

– the world and those who dwell in it.

For He has founded it upon the seas

and upon the waters He establishes it." – Psalms 24:1-2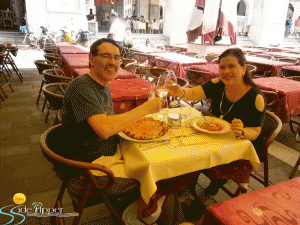 My husband delighted me with a travel ticket for two (2) to Italy as a post 5th wedding anniversary present. Hmmm… Italy! Who would not be captivated by the world's largest wine producer and the home of freshly stone-baked pizza, al dente pastas, mouth-watering gelato (Italian ice-cream) and caffè macchiato?
It is so famous for its beauty, food and rich culture, even though not all have been here before. Beyond fine dining, warm people and great scenery, what attracted my husband and I to choose this country are two of its romantic places : Venice and Treviso.
Whenever I'd hear people talk about Venice (or  Treviso), the charming thought of "love" (or "being in-love") suddenly crosses  my mind. Oh boy, its lure is simply irresistible! It's one thing to read or hear about the place, and another thing to "actually" set one's foot on it!
Treviso and Venice are just 20 km (12 miles) apart from each other so one can easily travel from one city to another by train. It only takes about 25-30 minutes and fares are reasonable, or just about EUR3.30 for a single train ticket.
We took a 3-day trip to  Treviso  and Venice, and afterwards realized that it's just a small amount of time for one to fully explore the beauty and the spendor of these cities. Looking back, it would have been great to double the time. Nevertheless, I'm sharing with you now are our travel impressions so far, coupled with practical tips.
The good thing with short travel is that one tends to savour each precious moment, to embrace the gift that the "here and now" brings, and to say in awe: "Oh YAHWEH Almighty, How Great Thou Art and Thy Works!"
Travel impressions through lovers' eyes.
Treviso (gateway to nearby Venice)
Venice (The city for Lovers)
1410 Total Views
1 Views Today