What happens when Mexicali sizzles into a taco street food, with an ambience of Malate on a Saturday night? The result is El Chupacabra, Mexical's  new dining concept located along Felipe St. in Bel-Air Makati.
I first came to know about this hang-out place through my cousin James, who also happens to be managing this outlet. It wasn't hard to convince me to drop by for a family lunch because my palette is biased to Mexican food to begin with. Next to a rice meal, I can get by fairly well on a burrito, taco and enchiladas for as long as I can still have my brewed coffee afterwards (also offered, although not indicated on the menu), sweetened by egg custard butterscotch pie for dessert (a bestseller in both Mexicali and El Chupacabra).
I used to be a frequent customer of Mexicali back in college when its first outlet was close to my school. The advantage of El Chupacabra, I think, is that grilled items are grilled right in front of you as it is done along the street (vs. the similar outlets in a mall). Thus, the smoky flavour aroma is maximized. James is proud to tell me that its white garlic sauce dip that goes well with the burrito  is made of  fresh ingredients and prepared daily.
[cincopa A0HAgtbschsC]
One visit led to another, and El Chupacabra has never failed to please each time (and yes, I have paid for my meals and am speaking from experience).
This eating place which literally means goat-sucker (chupa = sucker, cabra= goat), has been attracting a lot of the middle class yuppies, celebrities and the expat crowd because its location is very close to the Makati's commercial district (it is pretty close to P. Burgos St. going to Rockwell, being near the corner of Polaris St), and yet, getting inside transports you to a cross between a  beach-like experience and a street party.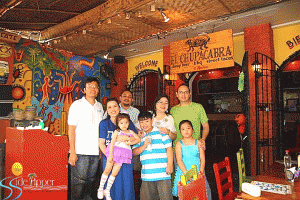 Biting into the chicken skewer for starters, all I am hoping to see next is a fire place, a body of water, the moonlight, and then I'm almost ready to kick-off my shoes and dance to the tune of Celia Cruz's Moolala (featured  in the movie The Mambo Kings).
El Chupacabra's Address
5782 Felipe St cor Polaris St. Bel-Air, Makati City
Tel no: (02) 895-1919
2799 Total Views
2 Views Today