"Accept what life offers you and try to drink from every cup.

All wines should be tasted; some should only be sipped,

but with others, drink the whole bottle."
― Paulo Coelho, Brida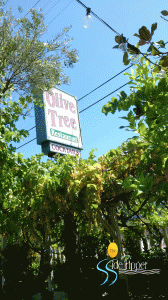 It was summertime in California when I rode up to Napa Valley, a place that I had been dreaming to visit, especially after watching the romantic film "A Walk in the Clouds".  While Napa Valley has the impression of being jam-packed with tourists at this time of the year, I actually found the place rather private and tranquil.  This added more charm to its picturesque backdrop: acres upon acres of vineyards, crystal clear blue skies and open spots where deers would occasionally run by.
Before hitting off its world-renowned wineries (the valley  is also the home of  more than 500 wineries, many of them producers of famous wine brands such as Cabernet Sauvignon, Pinot Noir, Chardonnay and Sauvignon Blanc), our host promised, "First, let's have a good lunch."
We parked at Silverado Trail and entered Olive Tree Restaurant. I was immediately charmed by its old-world exteriors–the medieval-inspired fountain, fruit-bearing vines, patches of flower garden and distinctly Italian restaurant interiors.
While deciding on what to order, we were served with freshly made bread which we slathered with creamy, unsalted butter.  Our host opened a six-year-old bottle of Hendry red wine which we sipped mindfully. For starters, I had Greek Salad. I appreciated that the healthy veggies in my salad plate were both crisp and fresh. They were using parmesan cheese and vinaigrette sparingly, so the flavors of the vegetable salad was put to the forefront.  For my main course, I chose Fresh Grilled Atlantic Salmon.  Red wine was supposed to be paired with red meat, but who cared about rules when you were dining among the vines? While I wished my salmon was paired with mashed potatoes, I didn't mind that steamed vegetables took its place.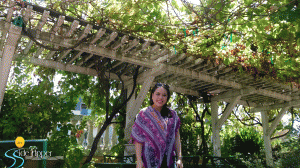 I learned that this restaurant is family-owned and has been serving diners for 34 years now. Olive Tree is usually a venue for special dates and family events, and I could see why.  I thought it was perfect for first dates or wedding proposals.  It was also mentioned that Hollywood celebrities would dine in this place when they visit Napa Valley.
1207 Total Views
1 Views Today