Passing through Glorietta 3 in Makati, I would not stop by had it not been for the smell of brick-oven pizza, the poster that promises fresh pasta, and the background music that exuded a European Bistro vibe. Think of 'La Vie En Rose', 'Un Homme et Un Femme, and 'Dream a Little Dream.'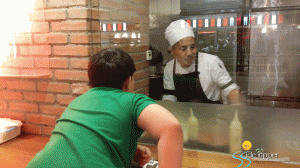 Ultimately, the voices of Astrud Gilberto and Tony Bennett humming in the background were enough for me to pull a chair and give this Italian food strip a try.
Topping my order is fresh pasta a la Bolognese, meaning, pasta that's made from scratch. As such, it seems more absorbent of the sauce, and chewy as well.
Someone also once said that the best way to gauge a good pizza is through the Margherita, so I added this in our family's repertoire of dishes for that night. This pizza variant is arguably simplest form, comprising of olive oil, sun-dried tomatoes, fresh tomato sauce, mozzarella cheese and herb topping. Yet, the flavour is full. One bite and I knew I will go back to again to Bistro Ravioli, hopefully by then, I'd see a larger space.
Branch and Address:
Bistro Ravioli Glorietta 
Second Floor, Glorietta 3
Telephone no.: (+63)922-8878379
Website: http://www.bistroravioli.com/
2420 Total Views
1 Views Today