Sagay City is conducting an annual event called "Adlaw Sang Suba" (River Day) in line with the advocacy to save this river. The event coincides with the Environment Month Celebration. The good thing is that nowadays, even if we are living far away from our home, a tool called Facebook keeps our loved ones close by, through posting photos, places and other reminders of good memories.
I am happy to see that the people are now actively participating in helping the preservation of Himogaan river  and its ecosystem. I am proud to say that the Himogaan river has a big part of my childhood days. My grandparents, my relatives especially my cousins in my mother side used to be living near the river banks. Those who live near Himogaan river people are called "taga suba" (from the river).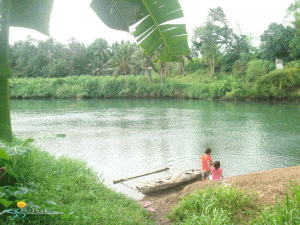 From elementary to high school years, "ang suba" was our constant playground and served as place to hang-out. We used to swim to the other side of the river. Of course my parents and grandparents prohibited me from doing so because it was dangerous and casualties were recorded. But then, because the influence of my older cousins was stronger, I was able to swim there once. You will be a proud "taga suba" if you happened to cross the river to the other side and back.  I remember making of sand ball, fishing and boating.
My grandfather used to raise ducks and plant coffee been near the river, and we used to guard them with my cousins. I also remembered that we constructed a  bamboo bench as our hang-out seat. We also used to visit my father's friend who use to live in the higher part of the river and we'd love to swim there also because it was not a highly populated part. There were also the "hunasan and daganasan," the shallow parts of the island in the center, where people loved to hang-out and do some grilling while swimming. The bridge was another hang-out place with my friends in high school. We rode a bike and would hang-out at the center of the bridge overlooking the Himogaan river.
I may be sentimental but every time I would see photos of my birth place, I cannot stop but reminisce my old friends and the memories we shared. It is one place during my childhood that has captured my attention in a special way. For instance, was when I saw some photos posted by my friend about the preparation which regards the program of Sagay City. This program now aims to help raise awareness of the needy,  to preserve the Himogaan River. The  river clean-up, tree planting at the riverbanks and releasing of fingerlings and a memorandum of agreement that was also signed by city and barangay officials and sectoral leaders, to strengthen the protection and preservation of the river.
I know lot of Fabricanians and from our Barangay Paraiso will not forget the bridge and the river where ever they are living now. You cannot get home without crossing it. It  may be a different situation now because of the new diversion road that was inaugurated by passing the Himogaan bridge. Hopefully, the government will also rehabilitate the bridge in the future. I am sure people from Sagay are proud about how their government and people are taking care of the important places in the city. Hopefully, the government will continue to formulate some programs like Himogaan River Cruise that will enhance not only the tourism aspect of the river but as will as the importance of it in our city, our barangay and history. I am sure older Fabricanians will also remember that Himogaan river also helps to transport logs through the biggest logging company in the country before ILCO (Insular Lumber Co.).
It has been more than 10 years and I was not able to visit  "suba," although I am still able to pass by the bridge during my homecoming two years ago. I hope to pay this place a visit next time, and embrace the beauty of the place that has had a big part of who I am today.
"We may meet new people, eat a new dish, visited and live in new places, but it doesn't mean that all of these new experiences are capable to change us entirely. Some things just don't change, especially when it comes to things that we have not stopped loving. Each one of us has a story to tell and personal memories that we still remember all this time." — Kit Elton Pilla
Photos by: Bovee Colley Fuertes and Edwin Pilla
2954 Total Views
5 Views Today